Another hectic week at the Sinclair house! This Sunday post is running late!
I am still working with my mom to get rid of stuff to lighten her load for her trip back to NY where she will be staying. I will miss her here tremendously, but again, it is something she has to do to make her life a bit easier in this new stage.
This week has been a busy one for all of us at my house, but I managed to squeeze in a few good recipes.
First and foremost, my
Country Fried Steak Biscuit Recipe
was featured at
My Turn for us: Freedom Friday's #71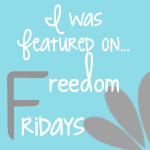 We have pizza once a week. All homemade of course, and I thought that since I do pizza so often, than I should do a new pizza recipe each week as well. Lets see how this goes because everyone in my house already has their favorites so new recipes will be tricky, but I will prevail (laughs).
I made corn tortillas for enchiladas, but in doing so, I also whipped up a batch of corn tortilla chips that I am sure you will love as much as we do!
Just a note: Kids LOVE to dip these tortilla shells in the sauce for you to fill them. It can get messy but the kids think its great!
Our Sunday meal with family was very crowded and somewhat chaotic in our small space, but the feeling of closeness and family makes the chaos okay!
We had all 3 of our kids here with 2 grandsons :-) and the daughter and son in-laws. One of these days soon, I will have to try to get a good group picture to share with you all.
I didn't get a photo this time of the meal, but to make the corned beef hash that I made this time around use:
2 cans of corned beef
4 peeled and diced potatoes
oil for fry pan.
Just add it to an oiled fry pan and turn as the bottom side browns. We like ours kind of crunchy and a bit dryer, but you don't have to cook it that long. Just cook through, stirring occasionally until the potatoes are tender. Cover if you don't want it browned and crunchy.
And FINALLY....The
Peach Cobbler
which was this meals highlight. Call it cobbler or call it crisp...it has the best of both worlds and the best sweet crunch you have ever had!
Do you have any family traditions like this? Please share it with us by commenting below!